Midweek UK Chart Update
August 06, 2008

| Music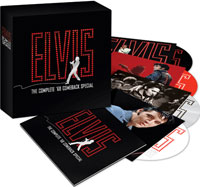 This Sunday the new official UK chart will be published again. On the Mid-week charts "The Complete '68 Comeback" Box set entered the Top 90 of the UK Midweek Album Charts after one day of sales. These charts are updated daily.
Source:
For Elvis CD Collectors Forum
Related links
This is really the best sample of a ripp-off, and the fans don't complain... The whole package is cheap simple. Any japanse mini lp is better looking! How do they dare to compare it ?