4 Film Favorites: Musicals
August 03, 2008

| Video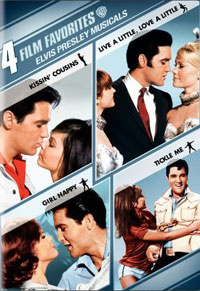 Due for release from Warner Home Video on October 14, 2008 in the US in the 4 Films Favorites" series is "Elvis Presley Musicals". On 382 minutes this set contains the musicals "Kissin' Cousins", "Live A Little, Love A Little", "Girl Happy" and "Tickle Me".
Source:
Amazon.com
Live a Little, Love a Little is a enjoyable movie. The other 3 are in my opinion crap.
Well video, dvd, reissued new cover, dvd, reissue again new cover. enhanced picture new cover, reissue now 4 in one buy. How stupid! Do you really want something new with outtakes and bloopers? Don't buy it and wait till they have to throw in something great like these outtakes and bloopers or a short documentary about the making of! They ahve to come up with something new and good give them a reason to do better ! Are Elvis fans really so stupid , I'm not, So shouldn't you be !