Elvis Media Player
July 08, 2008

| Other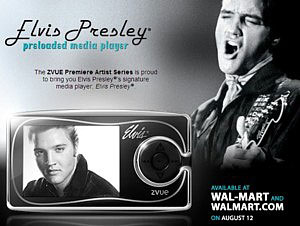 ZVue will release an Elvis themed media player in august. The device can play all popular music formats and plays video files on the high resolution 2.4 inch screen screen. The internal memory is 1GB and can be upgraded to 5GB - enough space for hours of multi media pleasure. The player is pre-loaded with 12 clips from the 68 and Aloha Special. The sale price is not announced at this moment, the media-player will be sold by Wal Mart.
Source:
EPE - Elvis Presley Enterprises
Will I be able to play my Sun 78's on it?