Details Inside Love Me Tender Book
June 17, 2008

| Book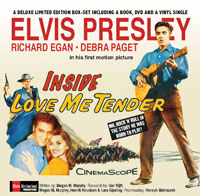 Elvis Unlimited is finishing the next release in the "Inside" series. If everything works out well will "Inside Love Me Tender" be ready for a mid July release. This deluxe box-set will like the previous "Inside" box-sets include a book, DVD, vinyl single and a certificate that proves that you're one of the only 2000 people who have this box-set. From the press-release: The book will be a 152 page full colour book featuring a lot of unknown stories about Elvis' first movie, many rare and unpublished pictures of Elvis during the filming, at the photo sessions, in the recording studio, at various meetings that were held during the filming etc. The "Inside Love Me Tender" book will also contain a lot of beautiful memorabilia from all over the world. The very informative texts about the movie that you will find in the "Inside Love Me Tender" book has been written by Megan Murphy. The foreword is written by the legendary Elvis book expert Ger Rijff, who years ago worked on a book about "Love Me Tender". That book never happened and Ger has worked with Elvis Unlimited to produce the best possible book about this historical movie. The DVD will contain some interesting footage from the movie set, premiers and of course the original trailer. The special 45 RPM vinyl single will be a replica of the original "The Truth About Me" single, that was recorded at the Love Me Tender set.
Source:
Elvis Unlimited
Funny it's going to be in full colour when the film was in b&w, but i'm not complaining of course. I'm looking forward to it !
.......I want to be one of the 2000.