Elvis - That's All Right
March 04, 2008

| Music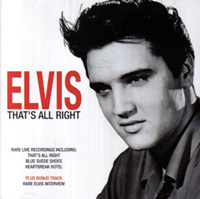 Another budget release, a picture disc, has been issue by the UK based Legacy label. Apparently it contains live recordings from the fifties of "That's All Right", "Blue Suede Shoes", "Heartbreak Hotel" and others. The bonus track should be a ''rare interview''.
Source:
For CD Collectors Only
Jerome
wrote on
March 05, 2008
I'll bet this is the Mace Born Auto interview..