Elvis Presley: The King
February 23, 2008

| Music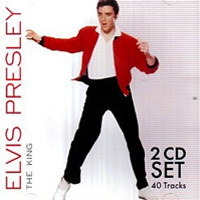 A new CD release on the K-tel label (remember them and "Elvis 40 Greatest Hits") from the UK. It focuses on Elvis' public domain 1956 and 1957 songs - it features two CDs; "Rockin' With Elvis" and "Lovin' With Elvis".
Source:
Elvis Information Network
ger
wrote on
February 23, 2008
Wow what A good name for an ALBUM
I assume this truly the same "K-Tel" label that also released many a compilation LP on television in the USA during the '70s as well as products like "Miracle-Brush. I see K-Tel has a website (the usual easy-to-find one) and notes that they sold "half a billion records" over 45 years under Canadian founder Philip Kives.
Jerome
wrote on
February 24, 2008
I didn't know Harvey K-tel had his own record label..