Monday Chart Updates
December 31, 2007

| Video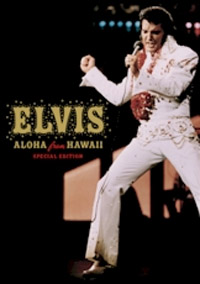 On the Australian Music DVD Chart, "Elvis The King of Rock 'n' Roll" moved back up 5 places to #17, while "The Comeback Special" rose 7 spots to #30 and "Elvis Aloha From Hawaii" rose 4 spots to #35.
Source:
Elvis Information Network
in my opinion this was just so rushed as release when it could have been so much better (the usual story with EPE/BMG). For exaple where was the intro with the satellite ? a new CGI version would have been nice. The picture qulaity and sound is fantastic but why were the 'recorded' songs like 'early morning rain' edited out? This concert was in this form was available on the deluxe collection. This release should have been a 'newer' version of the original Aloha instead.