Elvis Presley / Elvis X2
November 15, 2007

| Music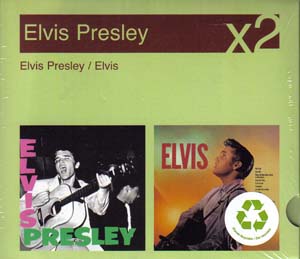 Re-issued by BMG in Canada is "Elvis Presley / Elvis" in the "X2" series. This set contains Elvis' first two albums.
Source:
For CD Collectors Only
It's also on sale here in Oporto, Portugal, and the price... 9,50€!!!
stu
wrote on
November 17, 2007
This set is also for sale through Tesco in the UK. Plenty of other artists are featured in the X2 series. Ironically the local Tesco that has these for sale (and its one of them big Extrs ones) had no other Elvis product: no DVD's no CD's and no Calendars. It makes you wonder if BMG really want to sell Elvis.
Stu - Of course BMG wants to sell Elvis. They will someday release an FTD version of his second album, then you will have the pleasure of spending about 70 bucks for these 2 FTD albums as opposed to the bargain 2-fer presented here. They are no fools(But maybe we are).