Jat Publishing Book Updates
October 14, 2007

| Book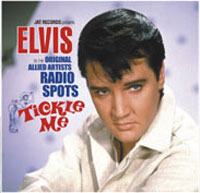 This is the cover art of the bonus CD that comes with the upcoming JAT Publishing book "Tickle Me" which should be out December 2007. The CD contains original Allied Artists radio spots. The book also comes with a 2008 calendar. Joe Tunzi also announced his next project; a new all color book to celebrate their 20th Anniversary entitled "Elvis Portraits Of Our Love".
Source:
For CD Collectors Only
Will the radio spots on this disc be the same ones we already have on FTD's 'Tickle Me' CD?
sure will get this one as i have loved all previous 28 books.