The Greatest Elvis Collection
October 01, 2007

| Video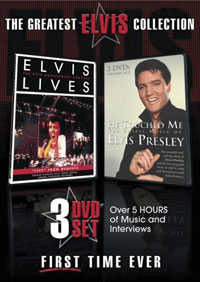 Here s the cover art for "The Greatest Elvis Collection" triple disc DVD set from Spring House / EMI. This set, containing the "Elvis Lives" 25th Anniversary concert and the "He Touched Me" gospel documentary, is due for release October23, 2007.
Source:
Amazon.com
Shaky
wrote on
October 01, 2007
Is this with or without the finest performance of the Elvis Lives DVD 'What Now My Love' which was conspicuously by its absence on the European version, D'oh!
Not only on the Eropean version, BTW. I got my copy from the United States and it had no What Now My Love on it as well. As far as I know the song was only available on the DVDs sold in Graceland...
FJE
wrote on
October 02, 2007
Ditto Iron Man.