Original Songs, Original Cover
September 22, 2007

| Music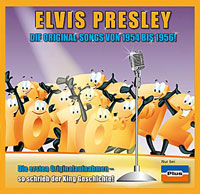 Here is a German compilation which is available through the PLUS super market chain. It is entitled "Die Original Songs Von 1954 Bis 1956".
Source:
Elvis Club Berlin Forum
Jerome
wrote on
September 22, 2007
great cover!!! Nice idea to use M&M's for the cover art..
LOL. Good one Jerome. Original Cover?
Hehe, those are not M&M's... the German discounter has this advertising campaign featuring numbers as "kleine Preise" (little prices). Funny cover, nevertheless...