Viva Las Vegas TV documentary Promo Video
September 08, 2007

| Video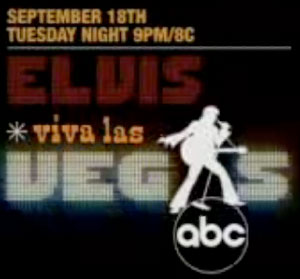 This is the promo video for the Viva Las Vegas TV documentary to screen on ABC in the USA on September 18, 2007. The soundtrack for this television special is already available. Once there is confirmation of where and when it will be placed in Australia, Sony BMG will delete the "Viva Las Vegas" CD special edition and release a regular 1CD version.
Source:
Elvis Australia
Related links
The viewership of the main three comercial network is not what it used to be in the USA (not by a long shot) but the networks still soldier on in the cable era. So it's great to see such an Elvis special given network treatment. For all we know, it'll be a rehash or heavy borrowing of "TTWWII" era footage with a lot of talking heads, but think how many people have not seen "TWWII" - or the re-edit. The is great exposure of dormant or casual fans as well as total novices. Bravo for finding a way to put Elvis in prime time again.
Narek
wrote on
September 09, 2007
Loved that trailer!
this will not hold anything new or of intrest for the diehards , but i imagine for new up comming fans it will be a thrill, i just wish that E.P.E. would realise that the greatest part of his legacy are the films/recordings , and they sure have alot of great unreleased footagethat they could include in these new documentaries, lord knows that ELVIS BY THE PRESLEYS - was a let down, big time.