Visual For Upstairs At Graceland
August 19, 2007

| Other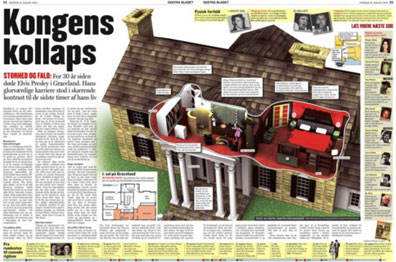 As reported a while ago, the Danish newspaper Ekstra Bladet published a feature article by Martin Kirchgässner this week. The article includes this visual representation of Elvis' upstairs rooms at Graceland.
Cher
wrote on
August 21, 2007
I thought his bedroom looked out over the meditation garden? That wasn't out front or at the side there was it?
The bedroom placement is correct. It overlooked the front drive.
Hi there, Since I am the artist behind the visual of Graceland upstairs, I would like to share a better version in higher quality with you. Go to home page of Ekstra Bladet and serch for 'kongens kollaps'. Or you can see it on the australian Elvisinfonet. I can guarantee you, that the layout of the room is correct. Best regards, Martin Kirchgässner