Elvis In August Edition Now Dig This
August 04, 2007

| Other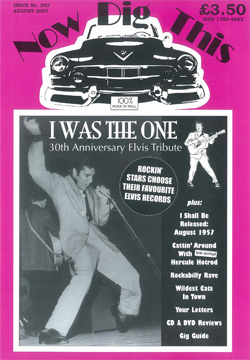 The August edition of Now Dig This magazine features a ten pages feature on Elvis Presley, marking the 30th anniversary of his death. It has Gordon Minto reflecting on how Elvis was marketed over three decades, people choosing their favourite Elvis records, some photos and an intreview with Chuck Wiginton who played just one show with Elvis in 1957. It also has the April 3rd 57 interview in from Ottawa Canada.
Source:
For Elvis CD Collectors Forum
Related links
Great pic. I've never seen it. You could say I dig this! Who is Chuck Wiginton and what did he play?
Lou A
wrote on
August 05, 2007
I've been getting this magazine since 1985. It's a great magazine, and they not only cover Elvis, but deserving neglected people like Duane Eddy, Jack Scott, Bill Haley, Johnny Horton, Chuck Berry, etc. etc. These are the same people who publish "Elvis The Man And His Music" which is the best Elvis fanzine. As a matter of fact , there are a number of excellant fanzines coming out in Europe about people like the Ventures, Rick Nelson, Eddie Cochrane, Gene Vincent. etc. But Now Dig This covers most of them , and very well. I hope they go on forever!