Elvis Featured In Record Collector Magazine
July 31, 2007

| Book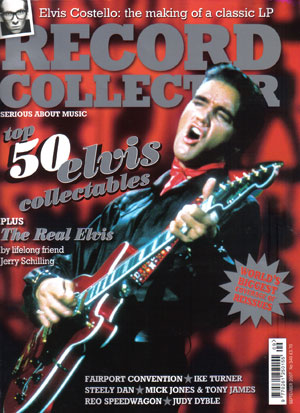 Elvis' is featured on the cover of the September 2007 edition of the U.K. collector's magazine "Record Collector". This edition Features an article on the 50 most collectable Elvis items, an interview with Jerry Schilling, plus an advert for the forthcoming "Destination Vegas" DVD and reviews on some other Elvis DVD's.
Source:
For Elvis CD Collectors Forum
Exactly as I wrote on FECC!!!
I always enjoyed this magazine when I could find it in the States. They always had great Elvis articles & features.
Well done 'Record Collector'! I expected to see a similar splash from 'MOJO' magazine but I always get the sneaking impression that they do not afford Elvis enough respect; their covers have become very predictable.