Russian DVD Releases
July 20, 2007

| Video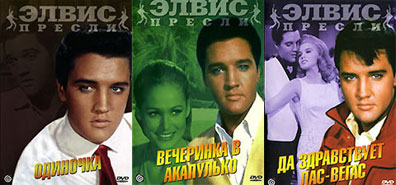 Here are several covers of Russian DVD releases (region 5). The titles which will become available are "Wild In The Country", "Viva Las Vegas", "Fun In Acapulco"' "Flaming Star"' "Girl, Girls, Girls" and "Jailhouse Rock".
Source:
Elvis Club Berlin
Only about 45 years too late.
Narek
wrote on
July 21, 2007
Actually these were out about 2 months ago at least. Very nice quality. bot English and Russian. Also Love Me Tender and Wild In the Country were out few years before.
Elvis would be 'tickled' that even Russia has his movies and music.