Cover Art For Another Budget Release
July 12, 2007

| Music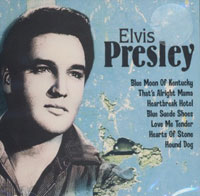 Here is the cover for another budget compilation entitled "Elvis Presley". This compilation was released on the Forever Go label on April 30, 2007.
Source:
CD Universe
somehow this cover shows some creativity. Keep it up Forever Go! (ps: are you the same label that brought out the 'Greatest Hits of Hanky Cowboy Panky?)
What a title, folks!! I've almost 33 LP or CD in my collection that they're called "Elvis Presley"
nice cover. but the name sounds like some other albums i have. Hmmmm put back on your thinking cap