Elvis Harley Davidson Website
March 14, 2007

| Other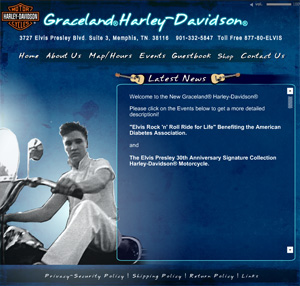 Probably not to be announced already, but in the works and partly available on the world wide web is a special site for the Elvis Presley Harley Davidson which will be presented April 23, 2007.
Source:
Graceland Harley Davidson
Related links
Anton
wrote on
March 15, 2007
Great Harley news for Elvis fans ! Hope Graceland has been able to arrange for Elvis fans to get a 35% discount whenever they buy a HD motorcycle...just kiddin'. However, the concept is OK - let's broaden it to more EP fans that want to stay at Hilton Hotels for less (40% discount rates for fans)... Same concept....except more EP fans will likely stay at Hiltons than EP fans buying a HD we guess....Let us know.
Jerome
wrote on
March 16, 2007
isn't there a product being linked to Elvis nowadays?? I can't think of one... Oh Yes!!Interesting releases with unreleased On Tour/ In Concert Material in Good Quality.. Yes, I think I've found a new market....