Heartbreaker
March 08, 2007

| Music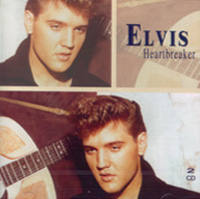 Just released is the 2 CD budget set "Heartbreaker"; it contains 49 tracks.
Source:
Elvis Corner
Are we sick of the public domain budget releases of once-prime RCA catalog Elvis? I certainly am! Sheesh!
Everybody Loves a lover, but mostly everybody hates re-runs, more trash, keep it in europe.
Yippee Yi Yo Yippee Yi Yay. It`s a great title. This one I didn`t count on. Great.