A Legend In Concert - The Early Years
February 26, 2007

| Video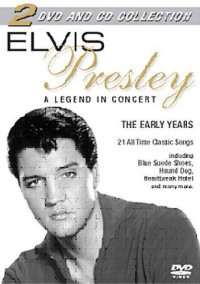 Released on February 26, 2007 (in Europe) is the 2 DVD and CD package "A Legend In Concert - The Early Years". This DVD is region code 2.
Source:
Elvis Club Berlin
Another rip-off DVD/Cd proberly with worse quality than we have on other releases. Dont bother with this one.
Anton
wrote on
February 27, 2007
You see, EP fans should write by the thousands to EPE Mgt and BMG to release the good stuff, that 450,000 EP fans have been waiting for for years now...the EonTour 72 concerts on FTD 4 CDsBox PLUS DVD with all the filmed concerts that goes with it. Now that would not be a rip off. But EP fans rarely comment on the good stuff Sean, they just complain...too bad. Many Elvis fans do not write an email or a letter/postcard to their EPFclub president to be reforwarded to Roger&Ernst or to Soden/Bolton at EPE Mgmt Graceland! And as long as they don't do that, we will get whatever the one-eyed moguls decide on Madison Ave or EPBlvd. You have to voice your requests !
Not sure about this release, probably a complete waste of money, and why use a shot of EP from the sixties for the cover when I'm assuming it's all fifties stuff?, however may be this should be posted somewhere else, but in light of what Anton said is it not possible for ElvisNews to perhaps compile the thoughts/suggestions/requests from here and send them to Roger and Ernst or anyone else that is in a position to make decisions as to what and when things are released? Maybe a new article could be set up to get fans opinions, or a poll as to exactly what most of us really want to be released (and will actually buy!) in the next few years. Like an awful lot of others out there, as an Elvis collector I want to own everything that FTD release, whether it is from a period I particularly love or not, even if it something I will only listen to once, however although I love the FTD books+CDs I don't love their prices! I know they must be quite expensive to produce (with a hardcover and printed on good quality paper), and I guess that the number sold is relatively small meaning there is no economies of scale, but at a typical price of £55.00 (approx $107.00) it is more than a little steep for something that may only get one listen; so even though the books are beautifully done, at this price I have to think long and hard as to whether I can justify to myself (and my partner) buying them! As someone else has said why do we get either a full hardcover book with masses of photos and information, or in the case of a standard digipak FTD release virtually NO information and two or three photos?