1969 Mercedes 600 On Ebay
February 12, 2007

| Other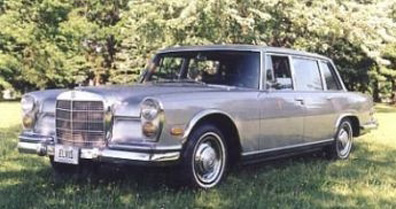 Besides the large collection in the museum at Graceland, from time to time you can find a car from the King for sale. This time it is a 1969 Mercedes-Benz 600. All the certificates and sales documents are included. On the pay slip, you can see that Elvis financed the car: $5500 down payment and 36 payments of $344/month. Elvis was driven in this limo to the famous Jaycess awards. The TCB logo is printed on the front doors. Elvis donated the car to Jimmy Velvet in 1976. The car can be yours for $750.000.
Source:
ElvisMatters
I like the fact Elvis was driven in a German car. After all, great cars come from this country. We were so succesful in the 1930's, winning the Grand Prix races. I suppose Elvis had good taste.
Jerome
wrote on
February 13, 2007
I read the car comes without tires.. That's a shame because I've read Elvis hit a squirle with this car and damaged the front tire.,..