Elvis Floor
January 18, 2007

| Other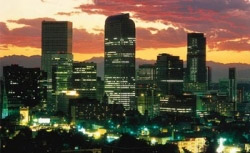 The Curtis, the newest hotel in Denver, Colorado that soon will open has devoted it's theme to the popculture. Each floor has it's own style, going from TV-shows and comics to music icons. The 15th floor is titled 'Mad About Music'. When you enter the floor, you'll see a large sculpture of Elvis and in the hallway you'll find framed pictures from live concerts. It's even possible to get a wake-up call from the King himself.
Source:
ElvisMatters
That is a great idea and a big honor; I like it.
And can we order a peanut butter sandwich for breakfast? Someone told me those are very good in Denver! TCB all!!!!!!
Elvisy
wrote on
January 22, 2007
If ever I go to that hotel it will be defnitely to get a wake-up call from the King! And by the way,do you think one could sleep? I for one will stay awake only pretending to sleep waiting for that precious and glorious voice! Whow ain't that cool! Hmmm.........lets start dreaming!!