Hard Rock Cafe Memphis Has Comeback Guitar
December 20, 2006

| Other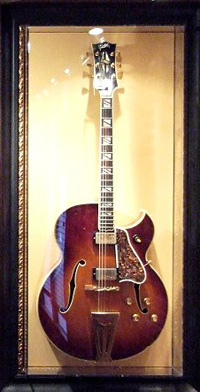 The World famous Hard Rock Cafe on Beale Street in Memphis, has completely been re-designed. Visitors cant walk in without being overwhelmed by the many Elvis related items. One of the eye catchers, is Scotty Moore's Gibson Super 400 guitar, the big, handsome, cognac-colored guitar Elvis wielded in his 1968 comeback special. The much expanded Elvis collection also includes the denim jacket he wore in "Jailhouse Rock", rare photos of Presley's childhood and teenaged years acquired from Elvis Presley Enterprises, a tank banner from Company D 1st Battalion 32nd Armor Division that was signed by Elvis in Germany, a two-piece stage jumpsuit from 1972, a suit Elvis wore in "Fun in Acapulco" and a parade uniform he wore in "Frankie and Johnny".
Source:
ElvisMatters
I went there before the redecorating and was really disappointed in the place. The food was pretty bad-hope that has improved along with the decor.
Carl
wrote on
December 21, 2006
That was a great moment in the special when Elvis took the Super 400 and began playing lead guitar. There were some great licks on "Baby What you Want Me To Do". Scotty Moore took Elvis' Gibson and was playing rhythm guitar. People forget that Elvis was a pretty good guitar player. I know Ernst and the "experts" say Elvis did not play any guitar. But Elvis played the rhythm guitar on "That's All Right" that really made that record special and a huge hit. Elvis could also play electric lead guitar. On the no. 1 gold single "One Night". that is Elvis playing electric lead guitar. On the no. 1 Christmas classic "Blue Christmas". one of the great holiday records, that is Elvis playing the lead guitar. If you watch some of the Elvis movies like King Creole Elvis is actually playing the lead guitar solos although lip-syncing. He is playing the right lead notes on the high strings of the guitar. So Elvis could play when he wanted too. That Super 400 shows Elvis in top guitar form on the 1968 special. That is a great rock moment.
Jamie
wrote on
December 22, 2006
Elvis had an exceptionally good sense of rhythm and his chord work on the guitar has a marvellous and distinctive driving quality. But I can't agree that he was in any sense a good lead guitarist. In fact, the lead licks he played on 'Baby, What You Want Me To Do' in 1968 are all well-known blues cliches for beginner rhythm guitarists and are identical to those played on the 1950s and 1968 versions of 'Blue Christmas' and 'One Night'. What may look like sophisticated lead playing is actually Elvis providing a very elementary and restricted rhythm guitar accompaniment. Marvellous instinctive feel though.