Elvis Starring In Oklahoma Out Now
November 10, 2006

| Book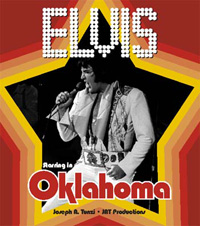 The latest project from JAT Productions "Elvis Starring in Oklahoma'' is out now. This book features photographs from the opening show of the July 1975 tour. There will be free pocket calendar for select dealers. It can be ordered directly from the JAT publishing website.
Source:
For CD Collectors Only
Related links
DJB
wrote on
November 10, 2006
Wasn't this first planned 2007, then slated for early December. After that it was Nov.21 then the 14th and now its just hot off the press?? Joe, what kept you!!! (just joshin').