Follow Me To Tennessee
September 23, 2006

| Book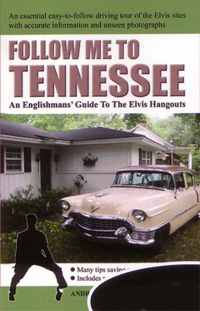 The guys beghind the Essential Elvis magazine are working on a book on visiting Memphis and Graceland. This book, entitled "Follow Me To Tennessee" is an "Englishman's guide to the Elvis hangouts" and is due for release later this year.
Source:
Magazines: Essential Elvis
Could be a nice book. Don't care for the silhouette image of Elvis though. Looks like he's just been kicked in the privates!
Memphis is a nice place to visit........Graceland Great, the Sun studio, the trolly ride around downtown Memphis and some time spent on Beale Street (which is great) also the martin Luther King Memoiral. After that its a plane ride home Just follow the crowd you dont need a book. also better done with a tour Bus to Graceland. the Sunstudio is a 5 minute trolley car ride to down town and beale street....The ride on the Mississippi is nothing unless you just want to ride the river boat.....the New orleans part of the Misssissippi is really cool but thats just a whole different universe.