More Elvis And More Friends
August 25, 2006

| Music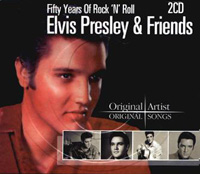 The Praxis store in the Netherlands has this 2CD set for sale for 7,95 Euro. On the compilation "Elvis & Friends / Fifty Years Of Rock 'N' Roll" you'll find 10 Sun classics by Elvis and other hits by Bill Haley, Chuck Berry, Fats Domino, Little Richard, Johnny Cash, Carl Perkins, and others... This CD is released by Promo Sound LTD and comes in a slipase package.
Source:
Elvis For Everyone Fan Club
Devon
wrote on
September 03, 2006
Ill pass on this one.