From Union Avenue To Thomas Street Re-release
May 27, 2006

| Music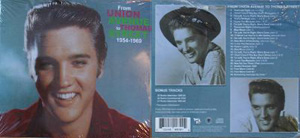 Volume seven in the Dutch EFE fan club Promo series "From Union Avenue To Thomas Street 1954 - 1969" has been re-released as a digipack by Wonderland Records.
Source:
Elvis For Everyone Fan Club
Nearly the same contens as EFE Vol. VII. Nothing new for the collectors. Nice photos in the inside and I love the front cover especially the left one.