Free TV Guide 50th Anniversary Edition CD For IET Members
May 07, 2006

| Music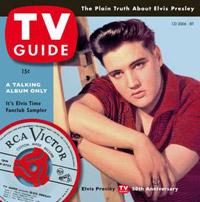 The Dutch It's Elvis Time fan club will give each member a free CD with the upcoming edition (251st.) of their fan club magazine. This CD contains the complete interview, as recorded in 1956. You can hear Elvis talk about the "Pelvis" nickname, adults reactions, his first public appearance, how the "rockin' motion" started and more.
Source:
Magazines: It's Elvis Time
Devon
wrote on
May 21, 2006
I have the four that were on sale here in the Unitedstates a few years ago, so now i gotta try and find this one.