Elvis On 150th Edition Mojo Magazine
April 02, 2006

| Other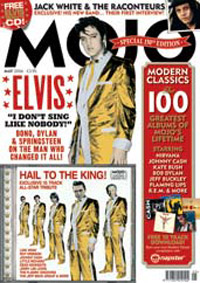 Elvis Presley graces the cover of the 150th Collectors Edition of the U.K. Music Magazine MOJO. With this issue comes a free 15-track tribute to the King featuring versions by Jerry Lee Lewis, Johnny Cash, Jeff Beck, The Dead Kennedys and more.
Source:
Mojo Magazine
Related links
incase there are those of you out there who do not read this magazine - it is a very Elvis friendly publication. Check it out as often as you can; not just this week to get the 150th special edition.
yes i got this just this morning, its not bad, although all the bits in it are of 50s , i have brought backdate once with elvis in the 70s in it. well worth getting though, julie
14 pages on Elvis. Not bad at all. A few gratuitous headlines but's what's new? Even an Advertisment featuring Kate Bush and Elvis on the cover of the mag inside! Enjoyed reading the contributions except Joe Brown's silly little piece in the magazine (page 89) He was called on to do a TV tribute to Elvis on the 17th August 1977. he was pathetic. it was embarrasing to watch. Thankfully there were others who appreciated Elvis right from hearing him the very first time!