New Series Of Elvis Trading Cards
March 24, 2006

| Other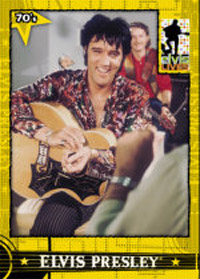 Press Pass will release a 90-card set of Elvis Presley Trading Cards in October in conjunction with the 50th anniversary of Elvis' debut on RCA records. Press Pass' Elvis cards will be available in six-card packs ($1.99) and in a special Gift Box (MSRP $19.99), which will include eight card packs and a die-cast replica of one of the cars that Elvis drove in the movies. Press Pass is hoping to create a multi-series Elvis Cards franchise and has assembled huge library of Elvis photos including some that have never been published before. Chase cards will include cards bearing swatches of scarves, shirts and jackets worn by Elvis as well as cut signatures penned by the King himself.
Source:
Elvis Information Network
Press Pass? I'll pass. Got to many different sets of others as it is.
"money money money its so funny in a rich mans world" I'll pass thankyouverymuch
I might buy these come October. Depends on my bank balance at the time.