Elvis On Sale: The Collection
March 15, 2006

| Music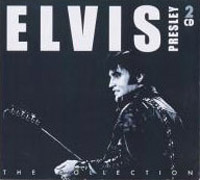 The international organized chain-store "Kruidvat" has an Elvis collction on sale. The next few weeks, they offer the 2CD set "The Collection", with an overview of Elvis' SUN / Hayride hits for only 3.99 euro (Belgium) and even 3.89 euro (Holland).
Source:
ElvisMatters
Jth
wrote on
March 15, 2006
""Kruidvat" has an offer no fan can refuse", well - they were wrong
It has nothing to do with BIGGEST HITS or anything. Its just tracks from 1956 ( the ELVIS PRESLEY album) and, ofcourse again, the Hayride songs. Worthless, also with very bad artwork, both on covers and discs!
Duncs
wrote on
March 16, 2006
why on earth would you put a '68 pic on a Sun era cd - give me strength !