Valentine Coffee
February 10, 2006

| Other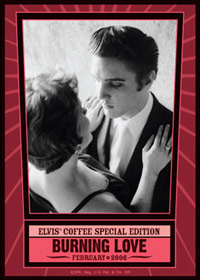 Released by Ugly Mug Coffee Company were two new blends. January saw the "Birthday Blend"; " a smooth roasted coffee combining the great tastes of Central American and South American coffee beans. February brings us "Burning Love"; "a great body and a great soul combine to make a great coffee with rich taste and a smooth finish. Some may even say these same two things made Elvis Great." Only available while suppilies last.
Source:
Elvis Coffee
This is great - i already have an order in for a large shipment. Don't think i'll bother with the FTD releases anymore - this is what the real fan wants. Brilliant - more please!!
I wonder if they'll release an "Elvis On Tour" edition of this coffee, "Special Edition" with extras like cream and sugar?
I read once that Elvis liked a pot of black coffee with his breakfast, and so do I. I have no problem with this. It beats the ducks, jumpsuits, masks and all the other trinkets. As for the FTDs: The next time EPE(or whoever) jacks the price up another $5.00 dollars, I'm done buying.