A New Design For Elvis.com
February 01, 2006

| Other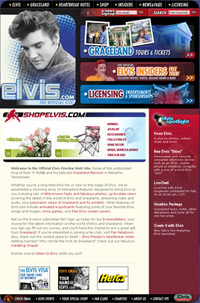 The official Elvis Presley website www.Elvis.com has a new look. The design is in line with the Elvis Insiders and Shop Elvis sites. The migration has not been fully completed, browsing the site we still found content presented in the old style.
Source:
EPE - Elvis Presley Enterprises
Related links
Jth
wrote on
February 01, 2006
A much better design that the previous one, which was a disaster. But give me the good ol' design any day.
I like it! I like the change and the new design!
It's about time. For 10 years you had to hunt around for obvious things (those now posted front and center). A lightbulb went off somewhere - and somebody said, 'Gee, where do we make our money?? hmmm...tours, merchandise, licensing, the insider memberships.....Let's focus on that on the website! It's a good change - it just took awhile. Glad to see some new vision.