Elvis On Tour Volumes II And III
January 05, 2006

| Video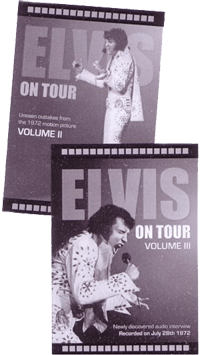 Released in the import circuit are two new volumes of the "Elvis On Tour" out-takes. The second volume contains 1972 footage, volume III contains a lengthy interview which is presented with a photo slideshow.
Source:
Essential Elvis
elvis on tour outtakes is good as far as backstage interviews is concerned but for actual unreleased stage footage it is very poor.ttwii outakes is miles better,weres suspicious minds in its entirety for on tour or many more filmed can anyone answer that so for moneys worth stick with ttwii.
Dear Mr. Cowboy, Just in case you don't realise, in the "On tour" out-takes, you actually get to see Elvis IN REHEARSAL, performing, among others, "Burning love", "Johnny B. Goode", "A big hunk o' love", plus on stage doing "Until it's time for you to go", "For the good times", "Release me" and others. There is also plenty of back stage footage too; PLENTY to get excited over, and in MY opinion, outweighing the TTWII stuff with no sound and green screen!!
I must agree with Tony Dobb and not with Lone Cowboy. The ELVIS On Tour rare footages rocks!