Cover Art Golden Records CD / DVD Bootleg Releases
December 24, 2005

| Music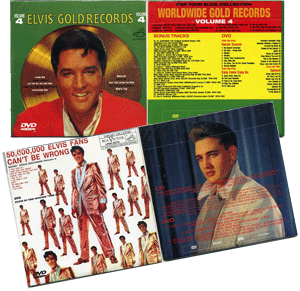 Here is the cover art of two of the new Russian import releaeses of Elvis' classic "Golden Records" series. The volumes 1 to 4 have been re-released in digi packs with bonus tracks and a bonus DVD featuring clips from his movies (if interprete the tracklisting correctly).
Source:
Email
Seems an awful amount of effort to produce this when they are already out officially anyway.
byebye
wrote on
December 24, 2005
This is better and more authentic. Leans more towards the original vinyl release..
byebye
wrote on
December 25, 2005
I´ve bought all 4, and I´m really looking forward to recieve them, since they are "jam packed" with every song that is featured in all those movies. Loaded!!