McFarlain Figure #5
November 17, 2005

| Other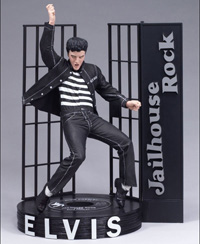 After the figurines "Elvis 1956", "Elvis Gold Suit", "That's The Way It Is" and "'68 Comeback", the American company McFarlane has just released the picture of the next Elvis-image. This time, McFarlane picks a movie pose, from "Jailhouse Rock". Most likely, the new figurine won't be available until after January. One of the next McFarlane figurines is probably "Soldier Elvis", from 1958-1960.
Source:
ElvisMatters
Looks damn fine to me! Could cheer up my desk, I suppose. The kids should give me this item for Xmas -:)
This one looks real good. I will be looking forward to buy this one to add to the other three figurines. McFarlane in my opinion has so far done a good job on all the Elvis figurines.The 68 Comeback one is the Best!
i know what i am getting my sister for christmas. (LOL)