That's The Way It Is - Stage Performances
November 06, 2005

| Video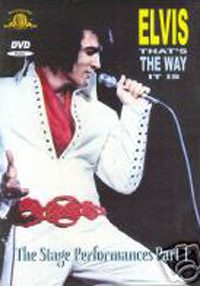 The import DVD "That's The Way It Is - The Stage Performances Part 1" features performances collected from the two different versions of the documentary film "That's The Way It Is", putting them in order of performance. All performances were recorded in August 1970. Tracks include "Love me tender", "Suspicious Minds", "Just Pretend", "Don't Be Cruel" "Don't Cry Daddy", "In The Ghetto" and more. The DVD factory made DVD is region 1.
Source:
Ebay
Aarons
wrote on
November 06, 2005
Is this another bootleg
Shaky
wrote on
November 06, 2005
With all these outtakes flooding the internet - it seems a definitive set by the poeple who own it should be a matter of priority - because this footage is too good to be watched in 3rd, 4th or 5th generation - EPE/MGM please move quick to end this exploitation. Give a product to mirror the 68 & Aloha re-worked DVD's!
It's about time EPE/MGM/Warner or whoever owns these footages wakes up and issue an Official version with 5.1 sound and pristine quality pictures. It will surely be a top seller, everyone who've seen or own copies of this poor quality 4th generation version will surely wants a Perfect copy . An official box-set would be a best seller with all the big interest on these footages going on now.