That's The Way It Is - Rehearsals
November 06, 2005

| Video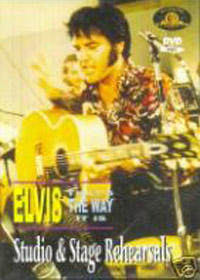 This import DVD gathers all the studio and stage rehearsal footage from the documentary film "Elvis - That's The Way It Is on one DVD". All footage is shot between July and August of 1970. Tracks include "Polk Salad Annie", That's All Right", "Love Me", "My Baby Left Me", "You Don't Have To Say You Love Me" and more. The DVD factory made DVD is region 1.
Source:
Ebay
Aarons
wrote on
November 06, 2005
Another bootleg
Shaky
wrote on
November 06, 2005
With all these outtakes flooding the internet - it seems a definitive set by the people who own it should be a matter of priority - because this footage is too good to be watched in 3rd, 4th or 5th generation - EPE/MGM please move quick to end this exploitation. Give us a product to mirror the 68 & Aloha re-worked DVD's!
Yes you're right Aaron, another bootleg. Because MGM/EPE/Turner/WB for once seems not intertested in CA$H MONEY... A pity. So those wise bootleggers are laughing all the way to the bank.