Baptist Memorial Hospital Imploded
November 07, 2005

| Book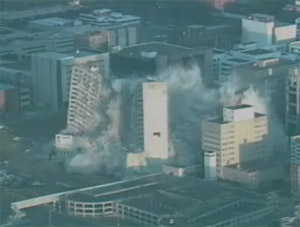 Baptist Memorial Hospital, where Elvis was a patient so often, and where he was pronounced dead to the world is no longer. The implosion took place before sunrise this morning. Local station WMC-TV aired it live for an hour. The actual implosion is available on-line.
Source:
Elvis Information Network
Related links
I don't know about you other guys, but as I watched it live; part of my heart sank. Like it or not it is part of the Elvis world. Having driven past it so many times it is weird I shall miss it; which is a little bizarre as it was hardly a beautiful building. Watching Memphis tv when they talked of the 16th it really was a very strange feeling. I am sure those the new Medical Centres/University will forge ahead in medicine the same was as St. Judes does.