Cover Art My Christmas Number Ones
October 26, 2005

| Music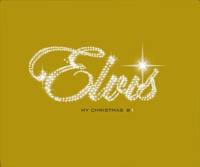 Here is the cover art of the upcoming BMG Germany 2CD release "My Christmas Number Ones". The tracklisting is not yet available, but you can already pre-order this release from Amazon Germany.
Source:
Amazon.de
Their re-re-re-resampling of songs is so sucked off they can't even find any more cover-pictures. This trash is all they had in the can for the man's 70s anniversary.
I like the cover. I assume it's a "slip" cover, with the original Christmas CDs inside. I'd like to see the '57 Christmas CD with the original cover - the packages, Elvis' photo from "Jailhouse Rock" etc., and the '71 Christmas CD with the different cover used in Germany - photo of Elvis in the white suit from "The Trouble With Girls (and how to get into it)!" A bonus booklet with the many different covers of Christmas releases from around the world would be nice, while I'm dreaming.
Uwe
wrote on
October 27, 2005
I agree. we don't need another re-release, what we need is a collection of unreleased outtakes.