Limited 18 UK #1 Hits CD
September 13, 2005

| Music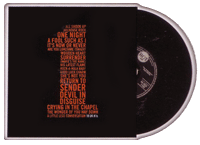 BMG UK will, in cooperation with EPE, release a gold record award which will personolized for the person who buys it. With the award, limited to 5000 copies, comes a CD with all the UK #1 Hits on it.
Source:
Magazines: OEPFC Magazine
emjel
wrote on
September 13, 2005
I find this a little bewildering. It is being advertised as "Personal Award" for buying all the UK CD and vinyl singles back at the beginning of the year. I would expect an award to be given freely, and not have a price tag of £165 attached to it. Surely this is just another way of enticing fans to spend money, especially as another carrot is the FREE 18 track CD, that will go into the box. Not everyone can afford that kind of money, but feel pressurised if they want to keep the UK CD collection up to date.
i kinda agree with emjel!,it seems to be yet another chance to make money out of us gullable elvis fans? How many average fan can afford £125 for a gold rcord? Not vey many. And yes, if rca were really thankful for us fans buying the uk singles then the gold record would be free.
buyep01
wrote on
September 19, 2005
Hell at least give us the promotional CD, if they are doing it for the fans. make 5000 copies of the promo and have a discount rate if you want it all. But at least the king is geting another well deserved Recognition in the Musical field.