Walk A Mile In My Slippers
September 04, 2005

| Other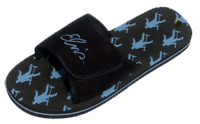 FootSteps PlusT announced its affiliation with Elvis Presley Enterprises as a new licensee. Available for the first time are Elvis Presley custom casual footwear, flip flops, slippers, and sandals. These new products were introduced during Elvis Week here in Memphis.
Source:
Elvis Information Network
I'm not keen on Elvis-gadgets, though these ones... they're very nice. I could live with those. :-) Hopefully some fanclub will import these into Europe (and make 'em payable)
Jth
wrote on
September 05, 2005
This is something I would never, ever buy. What's next? "The Elvis toilet seat cover"?!
I like the slippers but,the little Elvis' should be the other way around.