A while ago we offered the visitors of both the For CD Collectors Only and ElvisNews websites the opportunity to ask author Ger Rijff that one, two or any question you always wanted to ask him. Many original questions came in and Ger Rijff came up with many original answers. Here is the first part of your interview with Ger Rijff. In the weeks to come the other parts of the interview with the man who knows a lot (but not all) will be published on both the For Elvis CD Collectors and ElvisNews websites.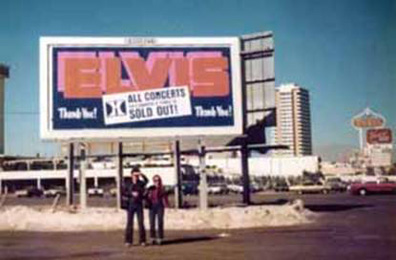 (Ger and Girlfriend, Las Vegas, December 1976) I'm thrilled by all the kind words from you all regarding my health. Astrid, Manon, Luuk, Bernard & Julie and all the others: Thank you! Well, I have a heart problem that eats up a lot of my energy. Today I felt pretty okay so here are some of the answers to your questions. More to come when my motor is running full speed again. I hope that will be soon again. Rock on, Question 1: Can you date the 1955 amateur color film first seen in "Elvis '56" of Elvis, Scotty and Bill, along with folks like Johnny Cash and Carl Perkins? (Dr. John Carpenter) Ger: According to the one guy who knows all – Ernst Jorgenson- the 8MM film was shot in Lubbock, Texas in the spring of 1955. The footage seen of Buddy Holly, Carl Perkins and Johnny Cash is not part of the Elvis performances, in fact, it's two separate home movies put together to 'beef up' the running time. Elvis, Cash and Perkins didn't perform together 'till the 2nd half of 1955. Thank you Ernst for sharing this recently discovered fact with us. Question 2 Both Popsie and Al Wertheimer photographed Elvis' July 2, 1956 RCA session in New York. Do you know if one followed the other, or did they shoot at the same time? (Dr. John Carpenter) Ger: You got your facts wrong here, Doc. Popsie – the photographer who's responsible for both the front and back photos on Elvis' first album wasn't around during the July 2nd, 1956 recording sessions in New York. Popsie shot his material of Elvis in the recording studio in the winter of 1955 and were as far as we know only made for RCA publicity purposes. Meaning, it was a photo session, and not a recording session. I once asked Wertheimer if he had known Popsie as both gentleman lived in New York in those years. Wertheimer had never heard of Popsie. That's not surprising as Popsie was roaming around in the entertainment circles while Wertheimer wasn't.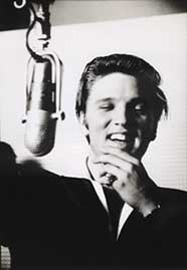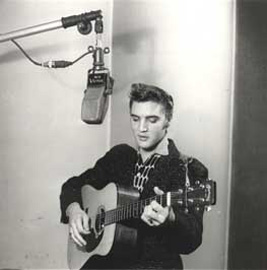 (Wertheimer, July 2, 1956, Popsie, RCA Rec. Studios, New York, Dec 1, 1955) Of course that all changed when RCA asked him to cover Elvis at the Dorsey Shows in the beginning of 1956 and onwards. The last time Wertheimer covered Elvis was in 1958 when Elvis left for Germany, photographs of that event found their way into 'Life' magazine. Question 3: Are there any outtakes from the July 2, 1956 session? (Dr. John Carpenter) Ger: Some fans claim to have heard outtakes of Hound Dog, but I have serious doubts. Of course they did exist at one time in the RCA vaults. But to this day nobody has ever offered any outtakes of the July 2nd, 1956 sessions to Ernst Jorgenson. But of course that's not a guarantee they do not exist anymore. Miracles happen … Question 4: Do complete live recordings from 1957 exist? (Dr. John Carpenter) Ger: I've heard rumors more live concerts from 1956 have been found. I don't know anything regarding 1957 concert tapes. It would be great though to hear one someday as Elvis performed some unusual songs during that year. If I remember correctly Blueberry Hill and Treat me nice are two of them Question 5: How close, if at all, was Elvis from doing a world or European tour because I have read so many stories saying various things and never seen or read anything actually confirming one way or the other? (Steve Wright) Ger: My honest opinion? A definite NO! I don't believe Elvis and the Colonel seriously considered a worldwide tour ever. I know Elvis often mentioned planning a tour overseas but that wasn't more than a smoke screen to keep the fans and press happy. Maybe after his brilliant come back in 1968-1969 Elvis for brief moments wanted to perform outside of the US. But there was so much easy money to be made back home with short tours and the regular Vegas gigs that after a while – when he became more depended on his daily intake of funny substances – he really didn't wanted to be bothered with changing that life style, clean up and work his ass off to undertake a worldwide tour. Let's face it, the man lived a great, almost fairytale lifestyle did exactly what he wanted to do, and was rewarded millions and millions of dollars for doing so. Not bad for a poor kid from Tupelo, Mississippi. Question 6: Do you have a top 10 of favorite Elvis songs? (Tony – England) Ger: O yes, and also a top 10 of songs I can't stand! First the greatest songs ever: 1) Heartbreak Hotel 2) Money Honey 3) Baby, let's play house 4) Trying to get to you 5) Lawdy Miss Clawdy 6) I need your love tonight 7) First in line 8) Don't 9) Suspicious minds 10) Reconsider baby The Girl of my best friend Bubbling under: I was the one, Loving arms, Don't be cruel, It is so strange, I'll remember you (Aloha version) Songs I never wanna hear again (non movie soundtracks only) 1) Padre 2) There goes my everything / He is my everything 3) Release me 4) She wears my ring 5) Miracle of the rosary 6) Moody Blue 7) If you love me let me know 8) This is our dance 9) O solo mio (Live 70's) 10) Something Hey Jude That's it for now. More soon!!!